Video tours ​
Video Tours are a main Micrio feature. They allow you to create a totally self playing tour through your image, using multiple viewports set out over a custom time line, with additional main audio like a voice-over.
Creating a video tour ​
To create a new video tour, select tours in the top bar, and then the video tours tab in the side panel, and click the New video tour button in the side bar to create your first video tour.
Setting the tour duration ​
The first thing you'll want to do after creating a new video tour, is decide the total duration of the tour. Perhaps you already have a voice-over audio file of 2 minutes, then you should set the duration to 120 (seconds).
You can do this using the Tour duration input field in the editor side bar.
Video hotspots ​
The most important part of the video tours are the video hotspots. These are the views the camera will focus on during the tour.
To create a hotspot, click on the + button in the bottom right of your the image. This will create a new view rectangle in your image, which you can then freely place and resize. During the creation process, you can freely zoom and navigate through the image, allowing you to precisely set the viewport to your needs.
The timeline bar ​
The timeline bar is the bar at the bottom of the editor interface. With this, you can set the tour viewport order, and camera speeds and durations.
After creating a video hotspot, you will see a new gray block appearing in the time bar. This is the period when the camera has this view focussed, ie doesn't move.
You can adjust the position of the view area by dragging it through the timeline, and you can adjust its duration by dragging the left and right handles of the grey block.
Tour audio ​
The unique part of a Video Tour is that you can add a single piece of audio that will be played when the tour is running. A single, long voice-over that tells you about what you see during the touring progress is perfect for this.
Deleting the tour ​
To remove the current tour from this image, click the remove button in the side bar.
Example application ​
A great example of this (in Dutch) is a tour through the outside architecture of the Rijksmuseum Amsterdam, as made by NTR Schooltv: An interactive video tour of the Rijksmuseum . Click "Start Details" when you've opened it to see a wonderful application.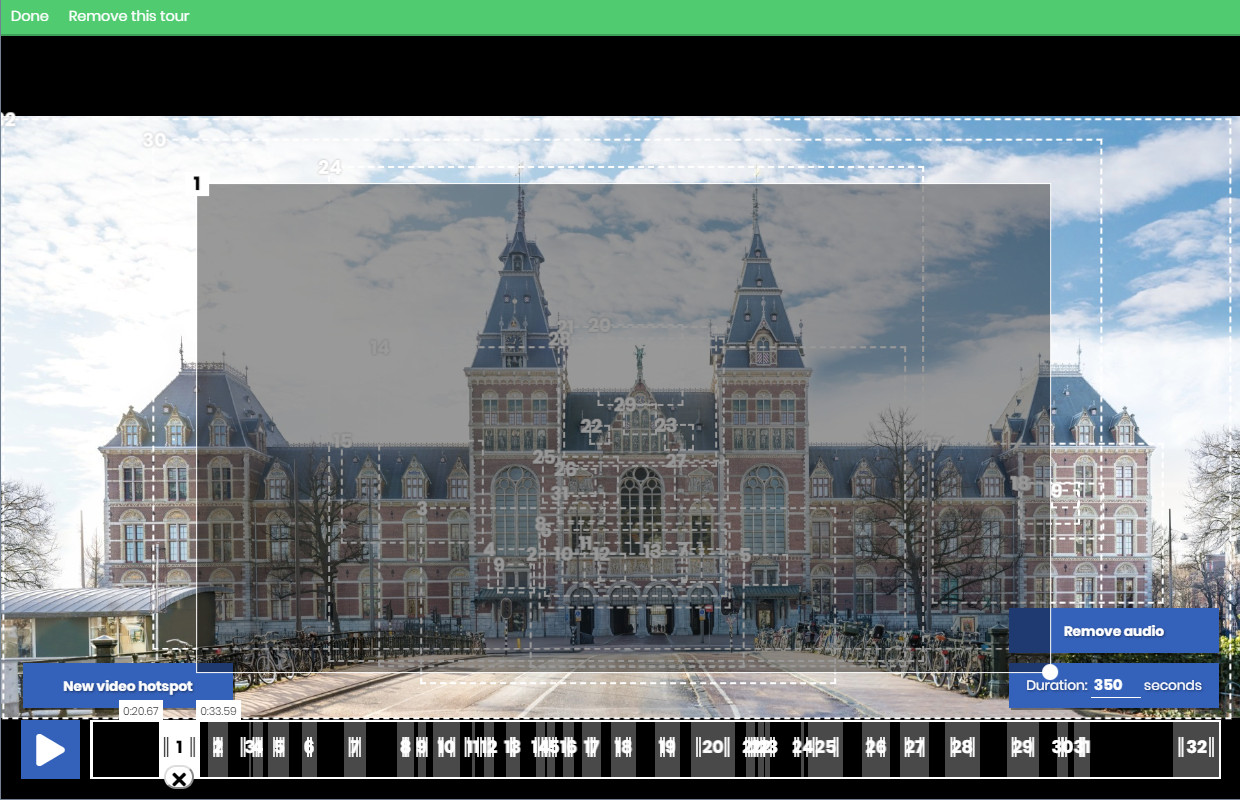 FAQ ​
How do I align the image start view with the first hotspot? ​
Under Image -> Settings you can find the "Set start view" setting. If you align this box with the first hotspot area, the start view of both the image and the tour will be the same.